Uploading media in GraFx Media
Introduction
GraFx Media is used to store your assets you will use in GraFx Studio and GraFx Publisher.
Assets are arranged in folder and subfolders.
Assets can be uploaded in a folder, not on the root level of GraFx Media.

Uploading
Go to the folder where you want to upload new assets.
Click the "Upload" button.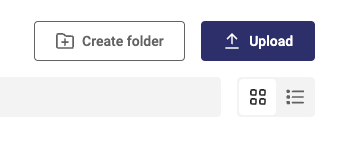 Select 1 or more files from your local system.
Choose one of the supported file types.
After the upload is done, you'll see a preview of the file(s).
Generating the preview can take a few seconds.